BAH59S54BC 59/S54BC

Colour-Coded Bit Set
54 Piece
The Bahco 59/S54BC Colour-Coded Bit Set contains a wide selection of bits suitable for universal use.
Each bit is made from high-performance alloy steel. Supplied in a durable carry case.
Contains:
8 x 25mm Phillips Bits: PH1, PH2(x4), PH3 and PH2G(x2)
6 x 25mm Pozidriv Bits: PZ1, PZ2(x4) and PZ3
2 x 25mm Slotted Bits: 4.5 and 5.5mm
16 x 25mm TORX® Bits: TX10(x2), TX15(x2), TX20(x4), TX25(x2), TX27, TX30(x4) and TX40
5 x 25mm TORX® Tamper-proof Bits: TTX10, TTX15, TTX20, TTX25 and TTX30
5 x 25mm Hexagon Bits: 3, 4, 5, 6 and 8mm
2 x 25mm Robertson Bits: #1 and #2
2 x 125mm Phillips Bits: PH1 and PH2
2 x 125mm Pozidriv Bits: PZ1 and PZ2
3 x 150mm TORX® Bits: TX20, TX25 and TX30
1 x Magnetic Universal Bit Holder
1 x Magnetic Quick-Release Bit Holder
1 x Socket Adaptor 1/4in
STA090949 MaxSteel Adjustable Wrench 250mm (10in)
The Stanley MaxSteel adjustable wrenches have a narrow head design for limited space applications and Laser-marked SAE and metric jaw scale for easy fastener size. The forged alloy-steel body increases strength and the extra wide jaw capacity opens wider than standard adjustable wrenches.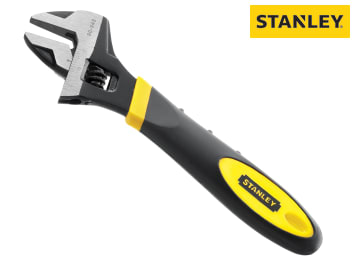 They have a bi-material handle for a comfortable grip. Ideal for automotive maintenance and repair, plumbing and general assembly tasks.
---
Stanley STA090949 Adjustable Wrench.
Size: 250mm (10 in).
Jaw capacity: 33mm.
FAIWPKSINGLE Single Stainless Steel Blade Knife 63mm
This Faithfull Single Blade Knife has a high-quality, 63mm stainless steel blade with a safety lock that prevents the blade closing when in use. Fitted with an ergonomic hardwood handle and an integral belt clip.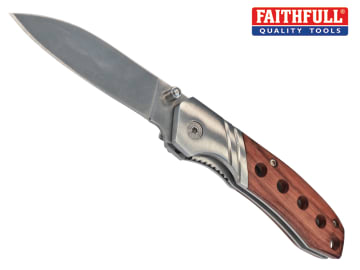 L/HSWIVELP 3W COB LED Swivel Base Torch 220 lumens (Blister Pack)
The Lighthouse 3W COB LED Swivel Base Torch provides users with a multitude of features and benefits. Whether you use a torch at work, for a trade application or at home and for leisure and hobby activities. It has the latest technology COB (Chip on Board) LED work light panel on the side of the body, and also a traditional spotlight torch at the end, along with a red flashing hazard light on the back of the body. This enables you to use it in a number of ways to suit the task or environment you are working in.
Delivers an outstanding 220 lumens of light whilst the spotlight torch delivers an impressive 120 lumens. Making this an extremely versatile and useful light. Attached to the main body is a ratcheting base which allows the torch to be angled, enabling you to direct light where you need it. The base is also magnetic, so it can be attached to a radiator or car and shine light where you need it most. Ideal if you have to deal with a leak or change a wheel in the dark.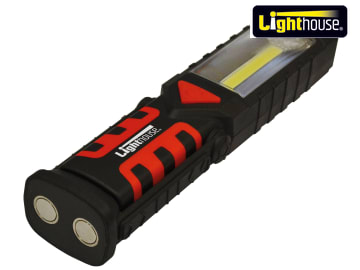 A fold-out hook allows you to hang the torch if needed. It is ideal to have in a glove box, toolbox, kitchen drawer and can be used anywhere, whether it be camping, fishing, working in the garage, loft, plumbing a bath or working on machinery where there is little or no light available.
Specification
Output: 120/220 lumens
Colour Temperature: 6500-7000K/7000-9000K
Run Time: 6-8 hours
Power: 3 x AAA batteries (supplied)
Dimensions: 215 x 50 x 50mm
Weight: 170g
---
This Lighthouse 3W COB LED Swivel Base Torch (L/HSWIVELP) is supplied in a blister pack.
STA010810 Sliding Pocket Knife
The Stanley sliding pocket knife has an all metal construction, making it solid, reliable and long lasting. It allows easy blade change, with no tools required, meaning that it is easier and faster than a standard utility knife.
The knife's one-handed operation blade slider extends the blade easily and quickly. A push down and slide safety feature ensures that the blade is not accidentally extended. For convenience, the knife is pocket sized and has a metal belt clip for easy carriage.
Accepts all standard Stanley blades (11-911, 11-921, 11-983).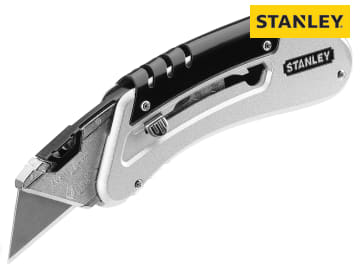 FAIPLWP10N Soft Grip Water Pump Pliers 250mm – 44mm Capacity
These Faithfull Water Pump Pliers are made from chrome vanadium steel with a rustproof, satin nickel finish and fitted with cushion grip sleeves for user comfort. Ideal for gripping pipes, nuts and bolts. A quick-action, sliding pivot provides a wide range of jaw settings. The offset jaws are angled to ensure a positive action with extra power when leverage and grip are applied.
---
These Faithfull Soft Grip Water Pump Pliers have the following specification:
Capacity: 44mm.
Length: 250mm (10in).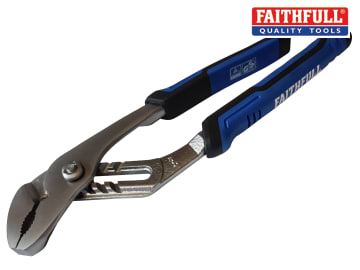 STA051309 Curved Claw Hammer Fibreglass Shaft 450g (16oz)
This Stanley Curved Claw Hammer has a lightweight design with a long handle for improved performance and less user fatigue. The handle has a fibreglass core that adds strength and helps to reduce vibrations. The polished smooth face has a tempered rim to reduce incidences of chipping.
---
1 x Stanley Curved Claw Hammer Fibreglass Shaft 450g (16oz) ;